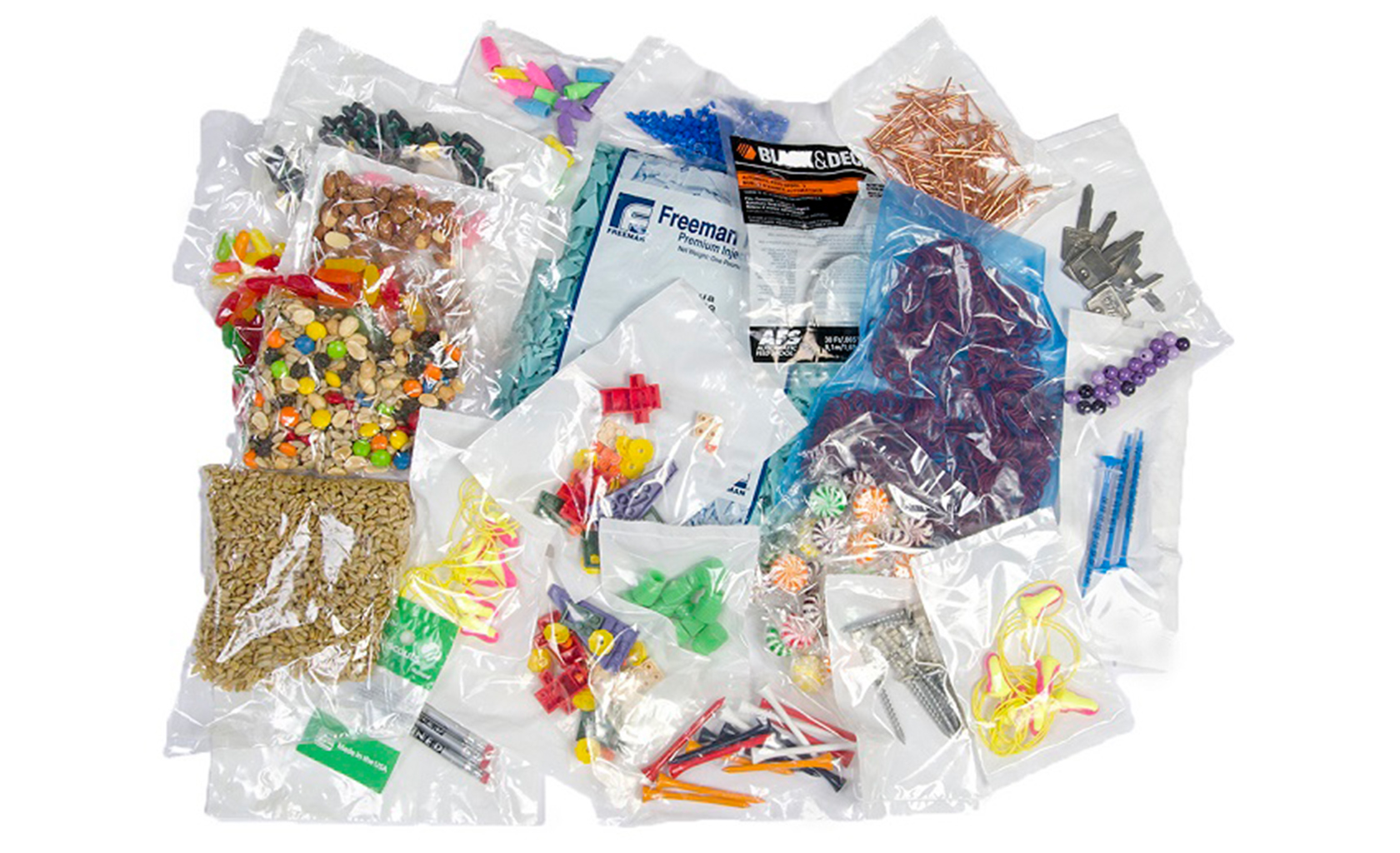 bag features
Strong, clear, for heavy content
Clear film, antistatic, e.g. for electronic components
colored pouch, antistatic, e.g. B. for electronic components
For general industrial products, cheap film
Clear, high strength, e.g. B. for sharp products
VCI, prevents corrosion, clean and dry
Clear front, white back (or other color) suitable for FDA thermal printing, e.g. B. for medicine
Biomaterial, self-dissolving for general industrial hardware
Combination of Tyvek and polyester, sterile for medicine
Foil bags (Pouch packaging): Reduce packaging costs with suitable bags, i.e. Chain bag on rolls
Bagmatic offers you the best options thanks to the Just-In-Time (JIT) – storage for standard bags, bags with special foils and properties as well as customized bags. All of our bags are flat bags, i.e. pre-opened chain bags on rolls.
The ready-made bags are an excellent alternative to tubular bags. Although the unit price for prefabricated chain bags on rolls is higher than for tubular bags, production with bag packaging machines, or bag machines for short, goes much faster than filling tubular bags. The time saved when loading the bags reduces the costs despite the higher unit price of the bags. Packing in tubular bags is more labor-intensive than packing with automatic or semi-automatic bag machines. With the bag machine, the rolls with chain bags in different sizes and qualities can be changed in less than two minutes.
Foil pouch: Store your chain bags with us
By combining the order quantities of the chain bags for the bag machine in the form of a framework order, you can benefit from bulk prices for larger quantities, whereby we can guarantee you lower storage costs and improved cash flow through timely deliveries.
We offer 100% biodegradable film for our bags!
Bagmatic is the professional partner when it comes to high-quality foil requirements and supports you in the search for a suitable foil manufacturer for your packaging and packaging machines. Advanced Poly Packaging is a quality brand that is exclusively marketed by Bagmatic and offers a wide range of individual packaging options. Stretch foil and foil bags, or bubble wrap are part of Bagmatic's quality range. Efficient packaging machines that work fully automatically take care of the professional application of the PPC films.
The right foil packaging helps to successfully present your products. Since the product is not only to be protected, but also to be presented in a visually perfect way by the packaging, it is very important that you receive the optimal packaging solution for your products. Food in particular is very sensitive to pressure and can be protected from damage by the Foils. Foil bags, for example, are ideal for furniture accessories; small screw sets can be safely delivered in the small bags. Containers or gifts can even be sold in a high-quality foil bag as a pretty gift packaging. Medications can be packed in the foil bags in the exact dose so that the medication is precisely coordinated. Wrapping products with packaging machine film is the best solution for safe transport and presentation.
Decorative presentation and best protection through high-quality film packaging & packaging film
Give your products with a perfectly coordinated foil packaging, protection and transparency at the same time. The customer can recognize freshness and quality despite the packaging and can transport his purchased products safely. The foil specialist presents high-quality foils for every industry; With Bagmatic you will find the individual packaging solution for your products:
Pouch foils are ideal for packaging industrial products. The foil bags are very strong, so that heavy parts or sharp objects are securely wrapped. The biomaterial is self-dissolving and is suitable for thermal printing.
Flowfresh foil bags are a combination of PP mesh and PP foil. The advantage of Flowfresh foil bags is excellent ventilation, which prevents the foil from tarnishing. The PP foil is also perfect for printing with your company logo.
Twinpacks also score with good ventilation, which is made possible by the material mix of PE CLAF and PE foil.
Stretch foil is ideal for packaging bulky items such as apples; it can be attached manually and mechanically. The stretch foil has an anti-fog coating.
The Doyback, also called stand-up pouch, offers an effective advertising space in addition to the large filling volume.
The film selection, which ranges from plastic foil and tubular foil (foil tube) to shrink foil and the foil tube, makes it easy to choose the packaging you want. The foils are professionally foil-sealed using the foil sealer.
The foil bags can be used in many areas:
The automotive industry benefits from the bag packaging machines, which securely store all small parts thanks to foil sealing.
Electronic packaging for computer hardware can be foil-sealed in foil bags.
Plastic foil or foam foil give products the necessary protection against damage.
In the mail order business nothing is possible today without foil packaging machines. Foil packaging has become indispensable there because it protects textiles from damage in transit.
The aerospace and defense industries have been using packaging machine foil for years because it provides the best packaging options. Wrapping foil is used very often there.
The foils are available individually or in part as rolls; The film specialists from Bagmatic will be happy to advise you in detail.
Gain time with automated packaging machines and matching bags and foils
Packaging machines can be used in many industries and areas and score with a long service life. If your company has a large need for foil packaging, you can save time and money if the work is done by the automated packaging machines.
In the food industry, packaging machine foils are really indispensable, because here the PP foils extend the shelf life of the food. In the pharmaceutical industry, many requirements and hygienic regulations are met with the packaging devices. Since the automated film packaging is completely optimized, logo printing and bar codes can also be easily applied to the foil. Marketing strategies can be perfectly implemented on the packaging machine foil. PP film and all film solutions, such as foil bags, PPC film, stretch film or bubble wrap, are provided by the film professional Bagmatic.
Bagmatic.com is the right contact if you need a specialist company for packaging optimization. From the packaging machine to the elastic stretch foil, the packaging professional presents all variants of an optimal packaging machine foil for your products.
Benefit now from the ingenious advantages of professional foil packaging!