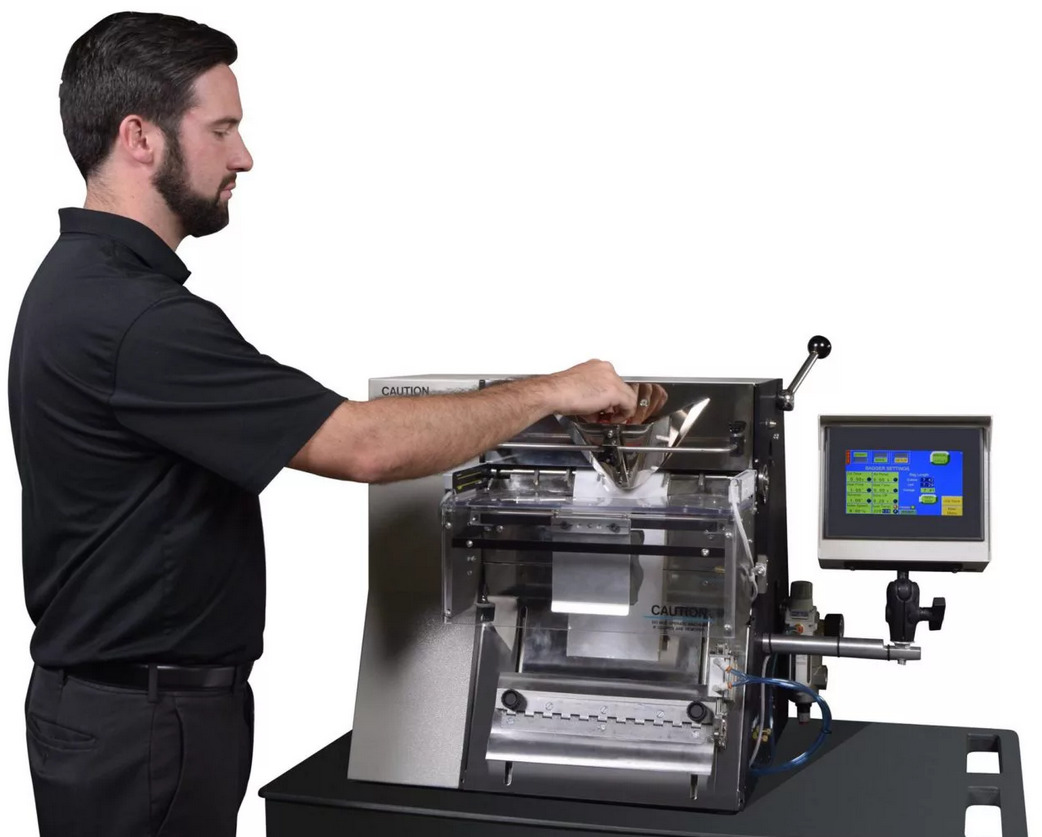 Hardly any industry, neither worldwide nor in Germany, can actually handle packaging these days. These are used all over the world in a wide variety of industries and not only serve to protect your goods, but also simplify the transport of them a lot and can often also serve sales-promoting purposes, which can be very decisive for the marketing of your product. The perfect packaging accompanies your product right from the start. Is your packaging process tedious and very time consuming? Then it's time to integrate a flow wrapping machine into the process!
At Bagmatic, we have made it our job to support companies in the field of innovative and effective packaging solutions. The vertical flow wrapper as well as the horizontal flow wrap machine are the solution to the question of low costs and user-friendly operation.
BagMatic packaging systems and semi or fully automatic machines for tubular bags offer you a very good price-performance ratio with maximum efficiency.
Semi or fully automatic flow wrapping machines are used in various industries and BagMatic has the right machine packaging solution
Our flow wrap packaging machine packs your products in no time, be it food, pharmaceutical products or products from the non-food sector. This machine is particularly suitable for companies that want to switch from a manual packaging process to an automated solution – and that as cheaply as possible.
Our flow wrapper can be integrated into your existing systems and automate your packaging processes. The packaging process in flow wrap packing machines is carried out by processing the machine flat foil, or empty bag, which in turn is formed into a tube during the process and then filled and sealed.
As a flow wrapping machine manufacturer, we guarantee the technical edge, efficiency and reliability of our automated flow wrappers. This takes your production or packaging process to the next level. Fully automatic adjustments and electronically controlled filling processes ensure excellent output and productivity of the machine. The foils can also be used with product data, barcodes and much more. print.
Flow wrap packaging machines are all-rounders that reliably pack a wide variety of products in the shortest possible time. Our unique "vision system" for quality control also enables the exact counting of products in the packaging. The packaging sizes can of course be adjusted and the design can be varied as desired.
Above all, they are used very widely in the food industry. The packaging of snacks, crackers, chocolate bars, other confectionery and long-life bakery products has become inconceivable today without the vertical flow wrapper or the horizontal flow wrap machine. The condition of the articles, whether sticky, fragile or deep-frozen, does not affect the packaging process. The cosmetics industry and the area of hobby and handicrafts also benefit from the all-rounders. Even in the medical, mail order and automotive industries, as well as the aerospace and defense industries, our flow pack machine is number 1 when it comes to the effective packaging solution.
Why should you choose our automatic flow wrapping machine?
Simple and straightforward, very user-friendly
Long life cycle due to our own quality and construction principles
High quality packaging, diverse selection of designs
Modern and innovative technology
Efficient and inexpensive
Fair flow wrapper price
"Vision System", which enables the exact counting of the products
Unbeatable customer service and advice
The tedious and time-consuming packaging of your products can pack up!
Get the horizontal or vertical flow wrap packaging machine from Bagmatic and increase the productivity of your packaging process with a system.
Bagmatic is your flow wrapping machine manufacturer
If you're looking for a reliable flow wrapping machine, then look no further than Bagmatic! As your go-to manufacturer, they're committed to delivering high-quality machines that meet the specific needs of your business. Their machines are designed to wrap a wide range of products, from food and drink to pharmaceuticals and cosmetics. With their expertise and attention to detail, you can rest assured that you're investing in a top-of-the-line machine that will streamline your packaging process and help your business grow. So why wait? Contact Bagmatic today and take the first step towards greater efficiency and success!
Understanding the benefits of using a flow wrapping machine for businesses
As businesses look for ways to increase efficiency and productivity, many are turning to flow wrapping machines. These machines are ideal for packaging products quickly and accurately, while reducing waste and costs. Unlike manual packaging methods, flow wrapping machines automate the process, allowing businesses to package hundreds or even thousands of products per hour. This increased output not only reduces labour costs, but also allows businesses to scale production and meet demand with ease. In addition, flow wrapping machines offer a high level of flexibility, making it possible to package a wide range of products, regardless of size or shape. As a result, businesses can improve their competitiveness and reputation, by delivering high-quality products that are packaged to perfection.
The advantages of automating your packaging with a flow pack machine
If you are into the business of manufacturing goods and products, you know how important it is to have an efficient packaging process. This process can make a huge difference in terms of cost, quality, and time. That's why an increasing number of companies are turning to flow pack machines to automate their packaging. These machines can pack your products into solid and uniform packets at amazing speeds, minimizing the labor required and the risk of errors. One of the biggest advantages of flow pack machines is that they can adapt to different products and package sizes, which is essential for companies that need to package a variety of items. Additionally, automating your packaging will not only increase your productivity and efficiency, it will also improve your product's presentation and shelf-life. So if you are looking to improve your packaging process, investing in a flow pack machine may be the way to go.
Good reasons for a flow wrap packing machine from Bagmatic
If you are looking for a reliable and efficient packaging solution, consider the benefits of a flow wrap packing machine from Bagmatic. Flow wrap packaging machines are able to wrap products with a tight, protective seal that keeps them free from contamination and damage during transportation.
In addition, flow wrap packing machines are highly customisable, meaning they can be adapted to your company's specific requirements. With our reliable and high quality flow wrap packing machines, you can be sure that your products will be packed safely and efficiently, saving you time and money in the long run.
How a horizontal flow wrap machine works
A horizontal flow wrap machine is a packaging machine that wraps products in a horizontal manner. The machine functions by taking a film from a roll, which then wraps around the product as it moves through the machine. The film is sealed longitudinally and transversely around the product to preserve its freshness and protect it from outside elements. The products can be anything from a loaf of bread to a chocolate bar. The horizontal flow wrap machine is efficient and can wrap numerous products in a short amount of time, making it a popular choice in various industries such as food, pharmaceuticals, and cosmetics. The machine is designed to ensure that products are packaged quickly and accurately, ultimately saving time and reducing production costs.
How a vertical flow wrapper works
A vertical flow wrapper is a type of packing machine commonly used in the food industry to package products such as cookies, candy, and chips. Essentially, the machine works by taking in a continuous roll of packaging film and forming it into a tube around the product. The packaging film is then sealed both longitudinally and transversely to create a package that is airtight and moisture-proof. The process is highly automated and typically relies on sensors and controllers to ensure accuracy and consistency in packaging. Overall, a vertical flow wrapper is an efficient and effective way to package food products quickly and neatly, making it an essential tool for many food manufacturers.
Which industries benefit most from the use of a flow wrapping machine?
Flow wrapping machines are becoming increasingly popular among various industries due to their cost-effective and efficient packaging capabilities. However, some industries are reaping the benefits more than others. The food and pharmaceutical industries, for example, can benefit greatly from the use of a flow wrapping machine. With the ability to perform fast and consistent packaging, these machines help maintain the quality and freshness of food products while also ensuring the safety of pharmaceuticals. Additionally, the cosmetic and personal care industries can also benefit from flow wrapping machines, as they are able to produce aesthetically appealing packaging that attracts customers. Ultimately, any industry that requires a high volume of packaging at a rapid pace can benefit from the use of a flow wrapping machine.