Flexible Feeder
The Flex Feeder is unmatched as an input unit. The filler parts flow on a vibrating conveyor belt past sensors, which precisely calculate and determine whether a part is isolated and regular or not. The unit rejects hooked or irregular parts and conveys them back to the separation. Irregular parts are never allowed to be loaded.
Sorting, weighing, counting and organizing automatically
Various machines and topics:
Multihead weighers
Weighing systems
Vibration conveyors
Counting systems
Separation systems
Feeding systems
Insertion systems
Pick and place systems
Robot systems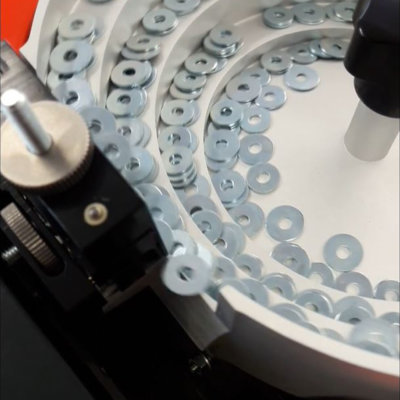 BAGMATIC small parts counting machine for various parts
The Bagmatic small parts counting machine is a universal automatic parts counter for small and irregularly shaped parts, such as:
Finest plant seeds like tomato, patato, carrots etc.
Vegetable seeds
Canabis
Cereals, Corn, Rice, Granola
Insects, Pupae
Pharmaceuticals, pills, casules
Gems, diamonds and precious stones
Small mechanical parts, spacers, bearings,
Implants
All these products have in common that it is difficult and time consuming to count them manually. Either they are irregular shaped or they are very light or very small. Because of this, the quantification of these parts by weight comes up against limits. The Bagmatic small parts counting machine is especially suitable for counting such parts precisely in small to medium quantities piece by piece. Important applications of the Bagmatic small parts counting machine are the repetitive, exact counting of a preselected number of parts or the conventional determination of the 1000 grain weight according to ISO 520. We also offer
seed counter machines
for companies With the Bagmatic small parts counte , parts with diameters from 0.3 mm to approx. 18 mm can be counted. All sizes can be processed with same adjustable conveyor bowl. Different feed containers for differently sized products are not required. A version with an external, larger conveyor, the Bagmatic MAXI, is available for parts with diameters up to 25 mm. The Bagmatic automatic parts counting machine is characterized by its robust construction and a simple, fool-proof operation. The large, bright LED display is easy to read even in daylight. The count signal is processed by a microprocessor which allows also the detection of parts with particularly difficult shapes. The small parts counter is equipped with terminals for remote control so that it can be combined, for example with packaging and filling machines. The Bagmatic small parts counting machine is the successor of our previous model 580, which was produced from 1980 for about 25 years. The new Bagmatic parts counting machine combines modern electronics with the proven key components that were already responsible in the previous model for long durability and unmatched accuracy. The Bagmatic piece counting machine can be described with attributes such as longevity, durability, robustness and reliability – this for many years.
Feeder machine: our notifications for our costumers
Bagmatic offers a large range of fully automatic feeders for automatic counting and orientation. Vision systems can be added to detect correct parts being feed into the bag, and by using camera technology you can have a very fast setup and changeover time.
Small Parts Feeder:
Are you looking for a small parts feeder for screws, nuts, rubber parts, o-rings filters, anything in the dimension and range starting from 1-20 mm. Bagmatic can help you with this process. We can integrate the feeders with our Bagmatic T375 / The Fastest Bagger in The Market and achive a very efficient packaging and bag printing process.
Send us your reference parts for a free product evaluation, and we would be happy to provide a quote for your attention.
Large Parts Feeders:
Are you looking to feed metal parts, brass, screws, bolts, nuts, or moulded plastic parts, we have a range of different infeed solutions, sizes up to 200 mm.
We offer regular vibration bowl feeders, carpet fedders for delicate and irregular parts, feeders with visoion systems and much more.
If combined with our Bagmatic T1000 bagging machine you get an very efficient and reliable fast solution that will save you money everyday.
Send us your reference parts for a free product evaluation, and we would be happy to provide a quote for your attention.
High Speed Counters:
Are you looking for a parts feeder to count more than 25.000 parts pr. min, then call us now. We have the system you are looking for. Anypart ranging from 1 to 20 mm., can be counted, and bagged with our special high speed counters. Used for moulded parts, filters, screws, nuts, etc.
These system works perfectly with our Bagmatic T1000 machines that have integrated printers
Our counting machines (counters) have counting rates of up to 25,000 objects per minute. This can be achieved for objects as small as 0.5mm and a single system can be configured to handle a wide range of object shapes. Advanced mathematical algorithms ensure 100% accuracy by analyzing multiple views of the falling objects. These counting machines are suited to filters, metal and plastic molds, medical parts, electronic components, o-rings, automotive aerospace, and many more.
Send us your reference parts for a free product evaluation, and we would be happy to provide a quote for your attention.