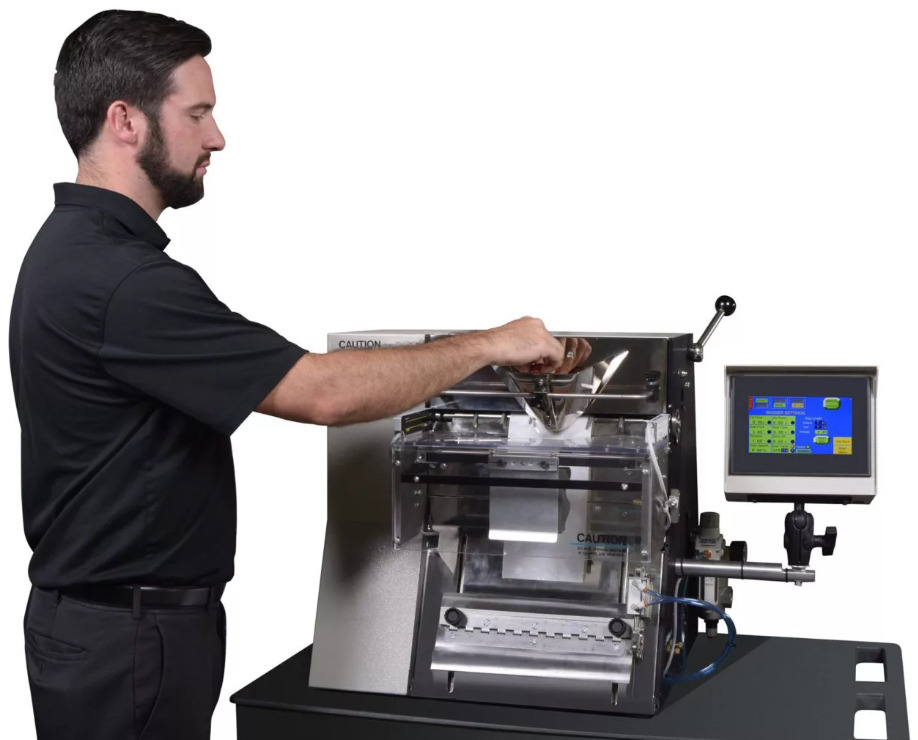 Pouch packaging machine – bagging machine
As is known, there is hardly any industry today, neither worldwide nor in Germany, which does not rely on bag packaging and makes use of it every day. Good packaging not only protects your goods, it can also make it easier to transport and also serve sales purposes. A tubular bag machine, or bag packaging machines, is now available as a advantage  from the productivity  yet at the same time giving an efficient packaging processes.
At Bagmatic, we have made it our job to support companies with innovative and cost effective pouch packaging solutions, from the semi-automatic packaging machine to fully automated, multi-part packaging systems.
Bagmatic offers bag packaging machines or pouch packing machines with semi and fully automatic bag packaging, individual bag design, automatic packaging of sets, or individual parts in bags, with your logo, bar code, article number, date stamp etc.
State-of-the-art bag packaging machines for all types of bag packaging demands
Both, our bag packaging machines and our tubular bag packaging machines can be integrated into your existing systems and automate your packaging processes. The semi-automatic bagging machine also increases your productivity and provides you with uniform and excellent packaging. This packaging system proves to be extremely fast and also very user-friendly. The semi-automated production process with packing bag (plastic bag packaging) is simple and uncomplicated.
The desired preopened-bags -on-a-roll  can be printed with the essential products data. Thanks to the innovative Zebra technology, changes to the print jobs can also be easily adopted and do not cause any disruptions in the auto bag machine packaging process. Connect directly via LAN your ERP system or ERP system directly with our printers.
The actual filling process (pouch filling machine) is made easier by a "Plug & Pack" system that inflates the bags. The filling process can be carried out manually by employees or can also be carried out semi or fully automatic. Our unique "vision system" for quality control also enables the exact counting of products in the bag. Further we offer systems for 100 % accurate counting with costum solutions " vision supreme system". A pouch sealing machine optimize your pouch packaging systems.
The bag packaging sizes of the bags are of course variable and can be varied as desired. We also offer a diverse selection of bags made from a wide variety of materials and colors (professional bagging machine). This includes bags from the category of clear films, colored bags, antistatic, VCI, or recycled for general industrial products, packaging made from the combination of Tyvek and polyester, which are used in the medical industry due to their sterile function and last but not least our bags made from biomaterial, which are environmentally friendly and dissolve itself.
Our bags are mostly flat bags, i.e. pre-opened chain bags on rolls. The bag packaging machine can even function as a stand-up bag machine. For certain order quantities, we also offer you to store your preopened plastic custom packaging bags on a roll with us in our warehouse in Scandinavia or Germany.
Pouch packaging machine: automatic filling and sealing machine for bags
We offer a wide range of bags & foils for packaging. Commercial pouch packaging with your pouch bag manufacturer.
Efficient semi and fully automatic bagging machine – the BagMatic pouch packaging machine for bags of all kinds
Bag packaging machines are used in various industries. For packaging small parts in DIY,  the aviation and defense industry, the automotive industry, health and safety, pharma, medical or for packaging electronic parts. Other typical areas of application for bag filling machines are medical care, bakeries, food packaging, sparepart kits and packaging for animal food. Our bagging machine are equally important in the cosmetics industry, in the mail order sector,  and also in hobby and handicrafts.
Why should you choose our Bagmatic Bag Packing Machine?
The fastest table top machines in the market with Zebra Printers
Simple and straightforward, very user-friendly setup.
Long life cycle due to our own quality and construction principles
High-quality types of packaging, various selection of bags
Fair price
Modern and innovative technology, very maintenance friendly
"Vision System", which enables the exact counting of the products, "Vision System Supreme" 100 % accurate
Unbeatable customer service and advice
Get the bag packaging machine from Bagmatic® and increase the productivity of your packaging process already today. Package Bags from your bag company.