Automatic Packaging Machine
Standard or Individual Bag Packaging Solutions by BAGMATIC®: Automatic Bagging Machinery as standard or costumized design.  New: Biodegradeable Bagfoils!
Are you looking for a product like an automatic bag packaging machines / table top baggers using pre-opened bags-on-a-roll, as a standard or a costumized system especially designed for your individual needs? You want to optimize and improve workflows in areas like Bagging and bag packaging with Zebra print solutions and need professional support?
We help our customers meet their demand for efficient and cost effective solutions , by offering full service bagging solutions. From packaging machinery and systems to services, support and education.  Also look at our biodegradeable pre-opened bags-on-a-roll.
Our customers are very satisfied with our Bagging solutions, as they are a fast and efficient, take up a limited footprint. Please also see our reviews in Proven Experts.
Find out more about us or get in touch.
Your advantages with Bagmatic and the packaging machines:
A young, family-owned company in the third generation of packaging specialists
Competencies in both semi-automatic and fully automatic packaging machines
Unique "vision system" for quality control and accurate counting of products
Camera solution for registering the parts to be packed before they are packed in bags
Unique solution for counting and packaging very small and light parts, e.g. flower seeds
Robot integration for fully automatic packaging (parts loading)
Neutralization of static electricity of parts prior to packaging in bags
Incomparably good customer service both in our house as well as with the customers on site Europe-wide
Fair and competitive prices
New and reconditioned machines in stock
Quick standardised packaging machines and individual packaging-system solutions:
Analysis, Consultation, Concept
Our goal is to optimise your packaging process and therefore reduce working costs. Through dialoges with our customers we receive insight in the present- and future packaging-demand. On this basis and after the detailled analysis of the current process, we offer an increase in speed, by our standard machines or by completely unique packaging solutions. The result is packaging with lower cost and higher quality.
The speciality: The bags can be printed during the bagging process with an inline-ZEBRA printer.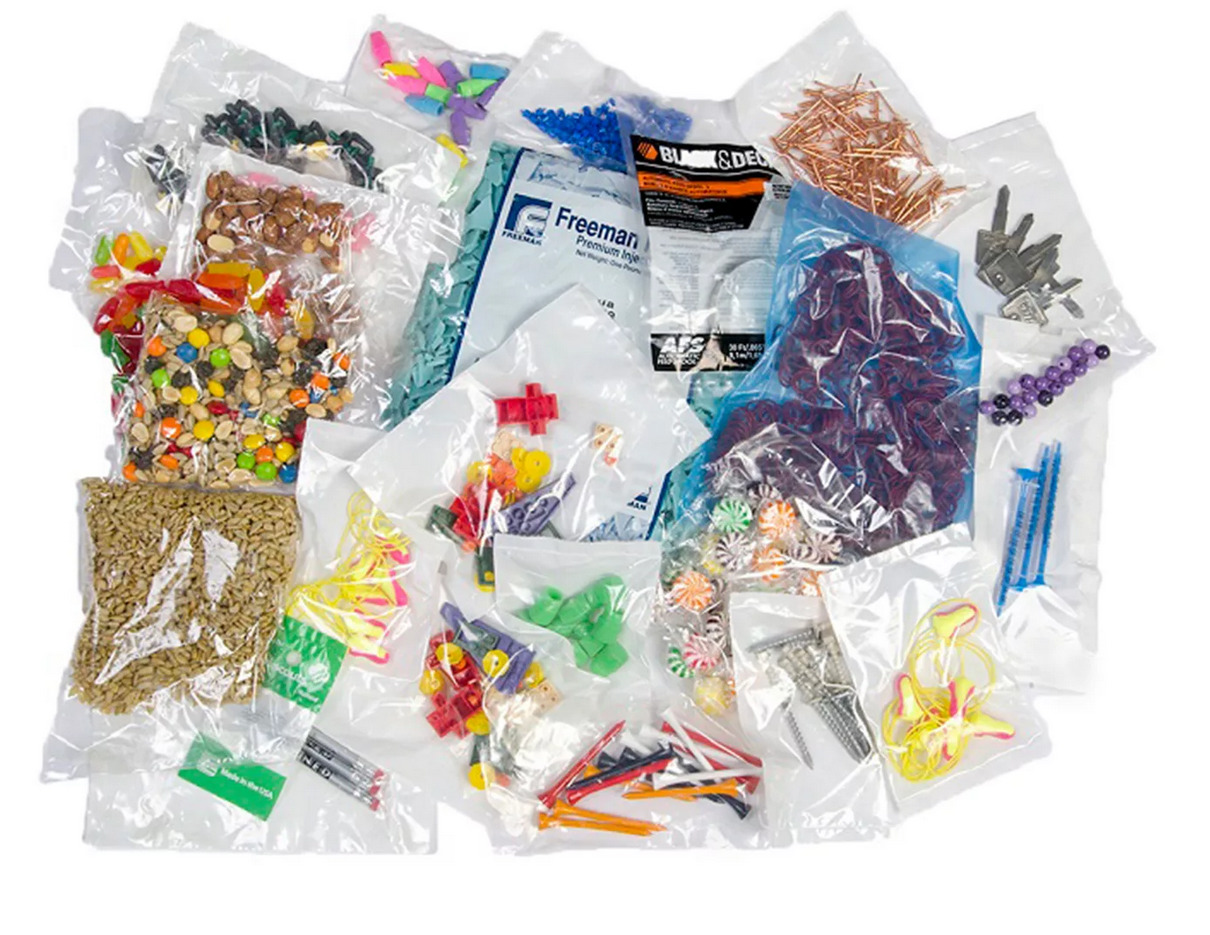 Large selection of automated packaging machines with many additional accessories for better input of products and optimised ouput of filled bags
We offer semi-automated and fully automated packaging machines, as well as packaging systems by well known brands e.g. Advanced Poly Packaging™. Of course we hold a large range of different bags in different sizes and qualities suitable for your machines, too.
We have a range of printable bags, even biodegradeable products. Our bags are pre-opened bags-on-a-roll which we store just-in-time specifically for our clients.
Start optimizing your process with our standard machines or our individual solutions. Contact us and receive a free consultation. We are happy to demonstrate our products, so that you yourself can test and see the magnificant quality.
Quick standard packaging machines from 2600€ for automated bagging with or without printing
Our mission is to enable automated, quick and seamless packaging with bags for a fair price. We want our customers to receive full service packaging solutions, as well as effective machinery wich we top with the best possible customer service.
– B. Norman Walter, Manager