Automatic Packaging Machine
Standard or Individual Bag Packaging Solutions by BAGMATIC®: Automatic Bagging Machinery as standard or costumized design.  New: Biodegradeable Bagfoils!
Are you looking for a product like an automatic bag packaging machines / table top baggers using pre-opened bags-on-a-roll, as a standard or a costumized system especially designed for your individual needs? You want to optimize and improve workflows in areas like Bagging and bag packaging with Zebra print solutions and need professional support?
We help our customers meet their demand for efficient and cost effective solutions , by offering full service bagging solutions. From packaging machinery and systems to services, support and education.  Also look at our biodegradeable pre-opened bags-on-a-roll.
Our customers are very satisfied with our Bagging solutions, as they are a fast and efficient, take up a limited footprint. Please also see our reviews in Proven Experts.
Find out more about us or get in touch.
Your advantages with Bagmatic and the packaging machines:
A young, family-owned company in the third generation of packaging specialists
Competencies in both semi-automatic and fully automatic packaging machines
Unique "vision system" for quality control and accurate counting of products
Camera solution for registering the parts to be packed before they are packed in bags
Unique solution for counting and packaging very small and light parts, e.g. flower seeds
Robot integration for fully automatic packaging (parts loading)
Neutralization of static electricity of parts prior to packaging in bags
Incomparably good customer service both in our house as well as with the customers on site Europe-wide
Fair and competitive prices
New and reconditioned machines in stock
Quick standardised packaging machines and individual packaging-system solutions:
Analysis, Consultation, Concept
Our goal is to optimise your packaging process and therefore reduce working costs. Through dialoges with our customers we receive insight in the present- and future packaging-demand. On this basis and after the detailled analysis of the current process, we offer an increase in speed, by our standard machines or by completely unique packaging solutions. The result is packaging with lower cost and higher quality.
The speciality: The bags can be printed during the bagging process with an inline-ZEBRA printer.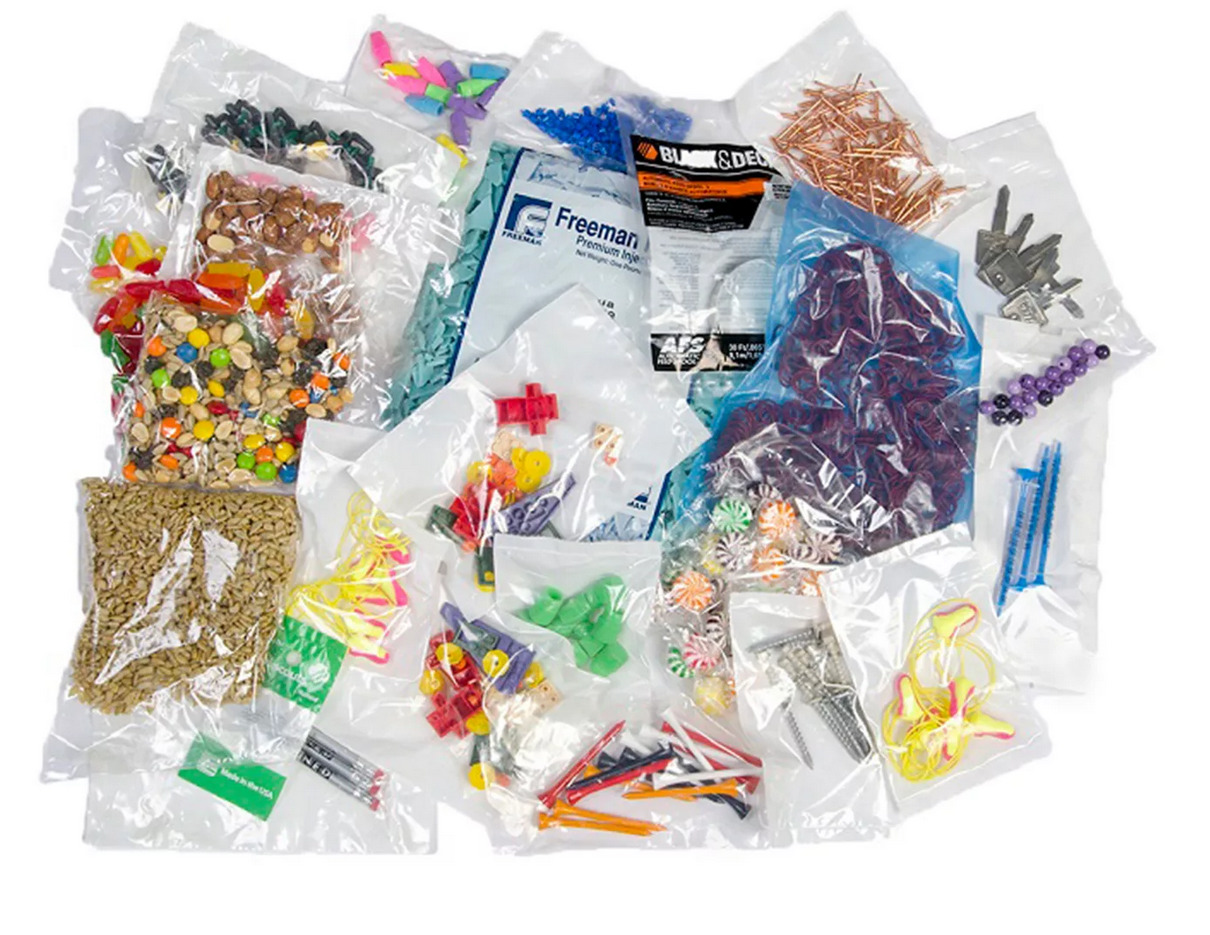 Large selection of automated packaging machines with many additional accessories for better input of products and optimised ouput of filled bags
We offer semi-automated and fully automated packaging machines, as well as packaging systems by well known brands e.g. Advanced Poly Packaging™. Of course we hold a large range of different bags in different sizes and qualities suitable for your machines, too.
We have a range of printable bags, even biodegradeable products. Our bags are pre-opened bags-on-a-roll which we store just-in-time specifically for our clients.
Start optimizing your process with our standard machines or our individual solutions. Contact us and receive a free consultation. We are happy to demonstrate our products, so that you yourself can test and see the magnificant quality.
Quick standard packaging machines from 2600€ for automated bagging with or without printing
Our mission is to enable automated, quick and seamless packaging with bags for a fair price. We want our customers to receive full service packaging solutions, as well as effective machinery wich we top with the best possible customer service.
– B. Norman Walter, Manager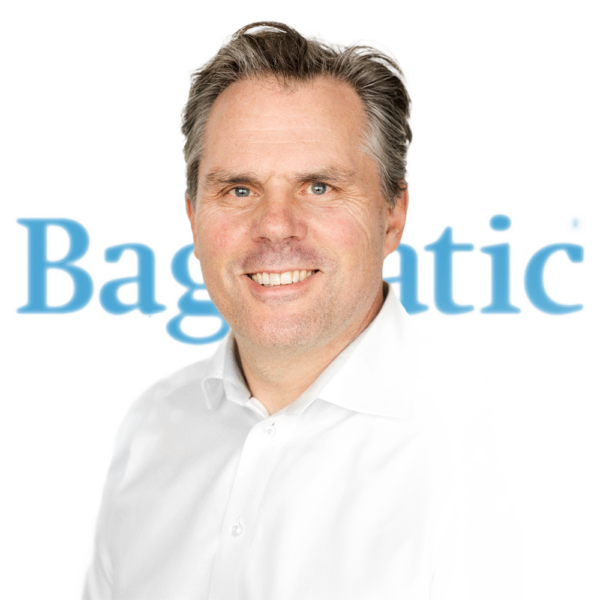 Packaging machines, pouch packaging & Co.
With packaging machines you can promote the handling of each individual product, thus the pouch packaging machines represent an important process factor. As a packaging machine manufacturer we are specialized in developing individual solutions for your products. In the medium and long term, the right bag & foils solutions can reduce your costs and increase productivity and efficiency. The packaging and the associated machines work semi–automatically and fully automatically, so the machines for packaging can be selected according to your individual needs and requirements. Packaging has always been part of the trade and sometimes also serves as a real advertising medium, depending on the print, color or shape of the individual bags, films or packaging. Fully automatic inline printers or QR & barcodes for bag packaging ensure a very individual presentation of your products.
Applications & industries of bags & packaging machines
There is a large number or a great need for individual packaging in many industries. Our bag packaging machines find their place in the pharmaceutical, food and cosmetics industries, in the household, for animal products and many other areas of application. A particularly high demand comes from the food industry, for example for sweets and other foods. Small bags for homemade cookies, candies or other goods available for sale require professional and quality packaging. Food packaging plays a major role in the factory process, but also for later sales. Machines for process optimization are also a very important economic factor, so a packaging machine for food is essential, as is the case in other areas of application.
Packaging systems and technology – packaging material and machines
Not all packaging is the same; as a packaging machine manufacturer, we attach great importance to the fact that our customers find tailor-made solutions for individual requirements. The variety of our machines goes from industrial packaging machines, table machines (semi-automated), input accessories, printers to fully and semi-automatic bag machines as well as vertical and horizontal tubular bag machines.
Table machines for packaging materials
Table-top machines for packing goods are primarily space-saving and compact, but also very variable in terms of the functions themselves. In addition to table-top packaging machines, we also offer table-top sealing machines, both with manual or fully automatic packaging system technology. The integrated printers are also particularly advantageous because they save you much more time. The functionality of the table machines is also very individual, with and without a printer, bag opener, fully and semi-automatic processes, integrated welding options and much more.
Industrial packaging machines – individual complete solutions
In production in particular, the machines are of the utmost importance and have to run reliably. Every failure or problem can cost time and disrupt the entire process. You will find reliable complete solutions for the industry in terms of packaging options. Our industrial machines are usually suitable for every product that needs to be neatly packed in foil or pouch packaging. Our system solutions also include individually adaptable input accessories or printers, which means that our complete solutions can print and fill bags reliably and semi-automatically or fully automatically. Our model T-1000 is the most frequently sold packaging machine, which is based entirely on your personal needs and can significantly increase productivity. Our industrial machines for packaging requirements are very fast and flexible, the speed mainly depends on the size and shape as well as the number of your individual parts. With a time of up to 100 bags per minute nothing stands in the way of efficient production.
Tubular bag machines: vertical & horizontal
There is hardly a branch of the economy that would manage without packaging solutions; we are downright dependent on reliable processes. We have made it our business to offer you the perfect solution with effective packaging solutions from packaging machines to multi-part packaging systems. Bagmatic offers you an individual bag design, fully and semi-automatic packaging of sets or individual parts as well as with a barcode or with your logo. The bag filling machines can also be found in the food industry, as well as in other areas of application. Thanks to a "Plug & Pack" system, the bag inflates before the actual filling process and thus facilitates the actual filling. In order to make the process as tailor-made as possible, employees can control the filling manually or automatically. Our unique "Vision System" is available to you for quality control for the exact counting of products in the packaging.
Foil sealing device & vacuum sealing device: packaging material
Buying vacuum sealers is part of everyday life in many productions, because with a vacuum machine you can benefit from many advantages and work much more efficiently. Vacuum bags are often used to vacuum seal food and also serve as a sealing device for food. The processes in the company can be made more efficient, goods can be prepared and stored.