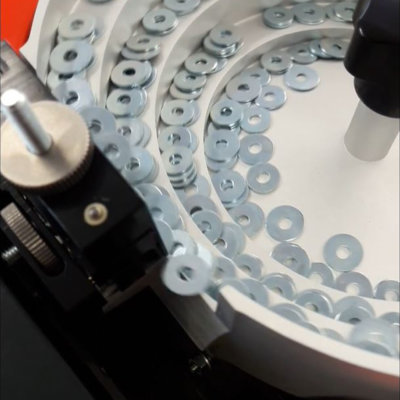 BAGMATIC small parts counting machine for various parts
The Bagmatic small parts counting machine is a universal automatic parts counter for small and irregularly shaped parts, such as:
Finest plant seeds like tomato, patato, carrots etc.
Vegetable seeds
Canabis
Cereals, Corn, Rice, Granola
Insects, Pupae
Pharmaceuticals, pills, casules
Gems, diamonds and precious stones
Small mechanical parts, spacers, bearings,
Implants
All these products have in common that it is difficult and time consuming to count them manually. Either they are irregular shaped or they are very light or very small. Because of this, the quantification of these parts by weight comes up against limits. The Bagmatic small parts counting machine is especially suitable for counting such parts precisely in small to medium quantities piece by piece. Important applications of the Bagmatic small parts counting machine are the repetitive, exact counting of a preselected number of parts or the conventional determination of the 1000 grain weight according to ISO 520. We also offer
seed counter machines
for companies With the Bagmatic small parts counte , parts with diameters from 0.3 mm to approx. 18 mm can be counted. All sizes can be processed with same adjustable conveyor bowl. Different feed containers for differently sized products are not required. A version with an external, larger conveyor, the Bagmatic MAXI, is available for parts with diameters up to 25 mm. The Bagmatic automatic parts counting machine is characterized by its robust construction and a simple, fool-proof operation. The large, bright LED display is easy to read even in daylight. The count signal is processed by a microprocessor which allows also the detection of parts with particularly difficult shapes. The small parts counter is equipped with terminals for remote control so that it can be combined, for example with packaging and filling machines. The Bagmatic small parts counting machine is the successor of our previous model 580, which was produced from 1980 for about 25 years. The new Bagmatic parts counting machine combines modern electronics with the proven key components that were already responsible in the previous model for long durability and unmatched accuracy. The Bagmatic piece counting machine can be described with attributes such as longevity, durability, robustness and reliability – this for many years.
Input accessories for machines and industrial plants from BagMatic
Input accessories are an important part of today's machines and industrial equipment to ensure a smooth production flow. From infeed belts, semi-automatic
weighingsystems
and counting machines,
small parts counting machines
and serial belts, BagMatic offers a wide range of input accessories needed for various applications. With the assurance of high quality parts, the company guarantees their superior performance and reliability for years to come. The company's commitment to customer satisfaction ensures that all customers receive quality products within budgeted costs by offering input accessories for machinery and industrial equipment that can become long-term solutions.
Accessories and attachments for input accessories in the field of machinery and industrial equipment
BagMatic's input accessories are suitable for many types of machinery and industrial equipment. The right input accessories for machinery can help reduce downtime, extend production time and save costs in any plant or manufacturing facility. By selecting quality products that have been carefully tested by experienced engineers in their field, you can ensure that your input accessories will keep your systems running optimally. At BagMatic, we offer a wide range of accessories and attachments for input machines such as conveyors, vibratory feeders, scales, counting machines, robots and automated systems. With the assurance of quality parts from BagMatic, you can be sure that your input accessories will provide years of reliable service.
Input accessories for packaging machines from BagMatic
Input accessories are a critical component of BagMatic packaging machines. With the right selection of input accessories, operators can ensure that the entire line runs efficiently and safely. From weighing systems to conveyors, input accessories provide essential support for a range of packaging processes. To keep a BagMatic packaging machine running properly, selecting the right input accessories is critical. Fortunately, there are many reliable and affordable options available. Whatever your needs, it's important to select the highest quality input accessories for your BagMatic packaging machine to optimize performance and durability.