Small-Part Counter Machine
BAGMATIC Seed Counter , Counter for various small parts
The Bagmatic seed counter is a universal counting machine for small and irregularly shaped parts, such as:
Finest plant seeds like tomato, patato, carrots etc.
Vegetable seeds
Canabis
Cereals, Corn, Rice, Granola
Insects, Pupae
Pharmaceuticals, pills, casules
Gems, diamonds and precious stones
Small mechanical parts, spacers, bearings,
Implants
All these products have in common that it is difficult and time consuming to count them manually.
Either they are irregular shaped or they are very light or very small. Because of this, the quantification of these parts by weight comes up against limits.
The Bagmatic seed counter is especially suitable for counting such parts precisely in small to medium quantities piece by piece.
Important applications of the Bagmatic seed counter are the repetitive, exact counting of a preselected number of parts or the conventional determination of the 1000 grain weight according to ISO 520.
With the Bagmatic Seed Counter , parts with diameters from 0.3 mm to approx. 18 mm can be counted. All sizes can be processed with same adjustable conveyor bowl. Different feed containers for differently sized products are not required. A version with an external, larger conveyor, the Bagmatic MAXI, is available for parts with diameters up to 25 mm.
The Bagmatic seed counter is characterized by its robust construction and a simple, fool-proof operation. The large, bright LED display is easy to read even in daylight. The count signal is processed by a microprocessor which allows also the detection of parts with particularly difficult shapes. The Bagmatic is equipped with terminals for remote control so that it can be combined, for example with packaging and filling machines.
The Bagmatic seed counter is the successor of our previous model 580, which was produced from 1980 for about 25 years. The new Bagmatic seed counter combines modern electronics with the proven key components that were already responsible in the previous model for long durability and unmatched accuracy. The Bagmatic seed counter can be described with attributes such as longevity, durability, robustness and reliability – this for many years.
Related products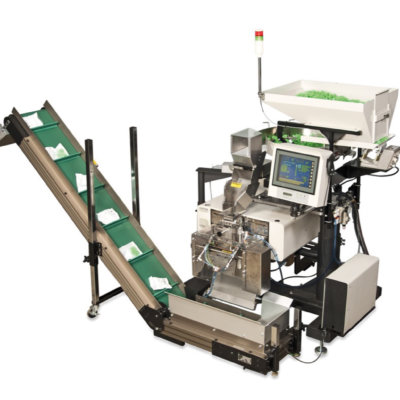 US-9000 Ultra-scale net scale & counting unit
The Ultrawaage US-9000 is both a net scale and a counting unit. It can be easily connected to the T-1000 industrial packaging machine and then works inline. The US-9000 is particularly suitable for small and / or difficult to separate parts that have to be packed. The US-9000 is ideal for the precise counting of filler parts, which can also be linked together and therefore cannot flow through a part counter. That is why the vibratory bowl feeder offers optimum speed when filling. If the weight of the filled parts approaches the predetermined target weight, the filling speed slows down so that the filling weight deviates only minimally from the target weight. Weighing takes place with a tolerance of up to 0.45 g deviation from the set target weight. If you increase the target weight with the tolerance, you achieve that the desired number of parts is at most exceeded, but never undercut. Therefore suitable the US-9000 is perfect for light and small parts that cannot be counted on a typical net scale.
Your advantages with Bagmatic and the packaging machines:
A young, family-owned company in the third generation of packaging specialists
Competencies in both semi-automatic and fully automatic packaging machines
Unique "vision system" for quality control and accurate counting of products
Camera solution for registering the parts to be packed before they are packed in bags
Unique solution for counting and packaging very small and light parts, e.g. flower seeds
Robot integration for fully automatic packaging (parts loading)
Neutralization of static electricity of parts prior to packaging in bags
Incomparably good customer service both in our house as well as with the customers on site Europe-wide
Fair and competitive prices
New and reconditioned machines in stock