Packaging with several individual parts
If you want to pack kits fully automatically, an industrial machine T-1000 is required for each part number of the kit. The machines can be combined as a module through pre-configured interfaces.
Description
BagMatic® offers customer-specific solutions for the packaging of several individual parts.
Related products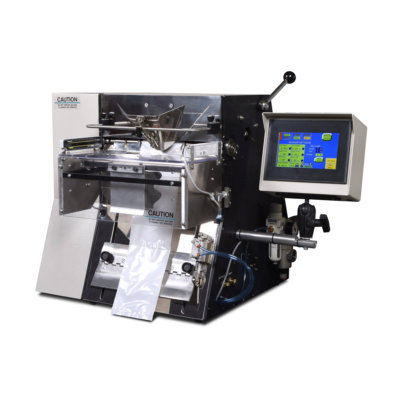 T-300 automatic table machine and welder
Tabletop machine for bag packaging. This machine is much faster than the T-200 and T-275. It has a touch screen with "pop-up" windows for messages, status and error display as well as storage and recall function for various orders. Our smallest, fully automatic packaging machine offers increased production output. It contains many new modules and features including touch screen operation, "pop-up" messages, job storage / job call and automatic pacemaker run. Possibility for automatic indexing, welding, separation of filled single bags or bag chains. Available additional options include the BF-10 bag vent, the CF-10 hopper, the CS-10 bag divider, the LS-10 / LS15 loading racks, the BL-10 blow-off device, hand scanner, stainless steel hopper and the trolley (see below).
Vorteile unserer Maschinen, Materialien und Zubehör:
Junges Unternehmen im Familienbesitz in bereits dritter Generation an Verpackungsspezialisten
Kompetenzen in sowohl halbautomatischen als auch vollautomatischen Verpackungsmaschinen
Einzigartiges "Vision System" zur Qualitätskontrolle und zum genauen Zählen von Produkten
Kameralösung zum Registrieren der zu verpackenden Teile, bevor sie in Beutel verpackt werden
Einzigartige Lösung für das Zählen und Verpacken sehr kleiner und leichter Teile, z.B. Blumensamen
Roboterintegration für vollautomatische Verpackung (Laden von Teilen)
Neutralisierung von statischer Elektrizität von Teilen vor der Verpackung in Beutel
Unvergleichlich guter Kundenservice sowohl bei uns im Haus als auch bei den Kunden vor Ort europaweit
Faire und wettbewerbsfähige Preise
Neue und überholte Maschinen auf Lager