Packaging with several individual parts
If you want to pack kits fully automatically, an industrial machine T-1000 is required for each part number of the kit. The machines can be combined as a module through pre-configured interfaces.
Description
BagMatic® offers customer-specific solutions for the packaging of several individual parts.
Related products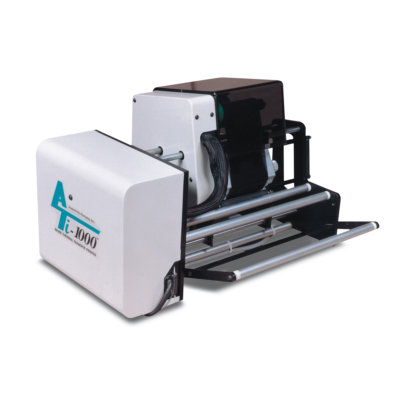 The Ti-1000 printer is a thermal printer that works inline with the T-1000 industrial machine. If the print changes, the next bag already has the new content or the new design. No throwing away unnecessary paper labels or bags with old printing. The latest printhead technology is here! Fast, high quality printing is now possible with the Ti-1000 inline printer. Design and print your own bar codes, graphics or logos directly on the bag surface.
Your advantages with Bagmatic and the packaging machines:
A young, family-owned company in the third generation of packaging specialists
Competencies in both semi-automatic and fully automatic packaging machines
Unique "vision system" for quality control and accurate counting of products
Camera solution for registering the parts to be packed before they are packed in bags
Unique solution for counting and packaging very small and light parts, e.g. flower seeds
Robot integration for fully automatic packaging (parts loading)
Neutralization of static electricity of parts prior to packaging in bags
Incomparably good customer service both in our house as well as with the customers on site Europe-wide
Fair and competitive prices
New and reconditioned machines in stock