Packaging with several individual parts
If you want to pack kits fully automatically, an industrial machine T-1000 is required for each part number of the kit. The machines can be combined as a module through pre-configured interfaces.
Description
BagMatic® offers customer-specific solutions for the packaging of several individual parts.
Related products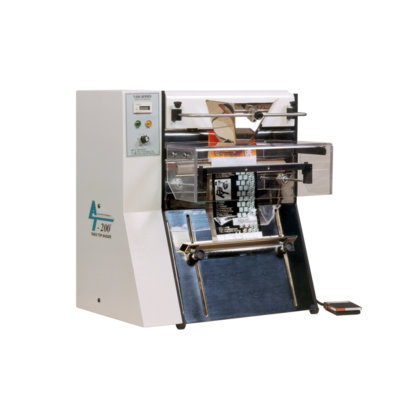 T-200 manual table machine for packaging
Manual tabletop machine for bag packaging. It is a chain bag on wheels. The bags are pulled into the filling position by hand, but are opened automatically and sealed automatically after parts have been filled. Forget about welding by hand, because the table machine for bag packaging T-200, which also seals automatically, increases production dramatically and reduces packaging costs by simplifying the packaging operation. Packs every type of product - from electronic components, literature, manuals, food, jewelry to hand tools! The T-200 uses our pre-opened chain bags on rolls. Simply pull the bag into the loading and sealing position so that an air stream opens and inflates the bag, throws the product to be packed into the bag, press the foot pedal or the button to seal the bag - done. It's that easy and quick.
Your advantages with Bagmatic and the packaging machines:
A young, family-owned company in the third generation of packaging specialists
Competencies in both semi-automatic and fully automatic packaging machines
Unique "vision system" for quality control and accurate counting of products
Camera solution for registering the parts to be packed before they are packed in bags
Unique solution for counting and packaging very small and light parts, e.g. flower seeds
Robot integration for fully automatic packaging (parts loading)
Neutralization of static electricity of parts prior to packaging in bags
Incomparably good customer service both in our house as well as with the customers on site Europe-wide
Fair and competitive prices
New and reconditioned machines in stock