The industrial packaging machine T-1000 for high speeds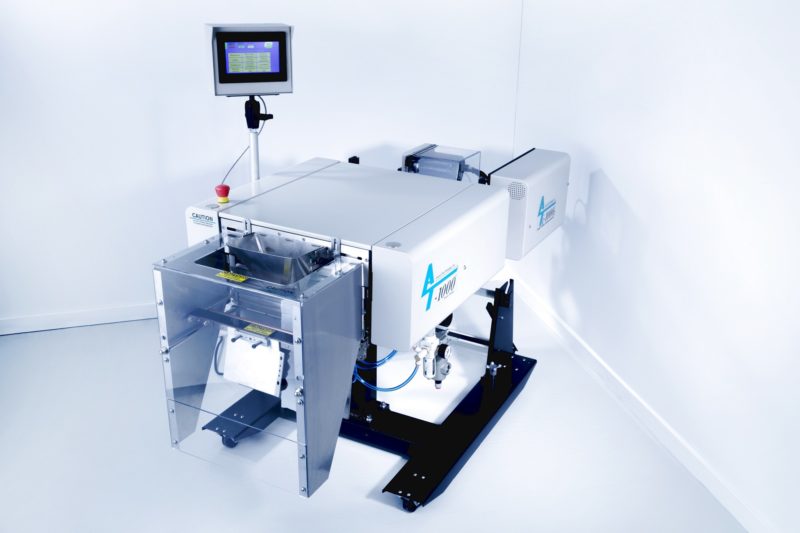 A large number of duty cycles per minute, i.e. Bag indexing, opening, sealing and tearing off the bags. Flexibility of use: Bags for each product or product sets. Applicable for all types of bags. Functional safety: High quality components and materials meet the strictest conditions of the production environment. Easy handling: Touch screen and dialog window, options for bags and additional equipment can be changed easily and immediately.
The T-1000 Advanced Poly Bagger ™ industrial machine is our "TOP bag packaging machine". No wonder the T-1000 is also the best-selling machine for packaging in bags. Designed for continuous and short-time use, the T-1000 has the ability to run up to 100 (*) bags per minute periodically, faster than an operator could ever fill them manually. The T-1000 is also fast enough to keep up with the pace of the automatic feeder.
The T-1000 Advanced Poly Bagger ™ industrial machine can also be combined with other devices, e.g. Punching presses, injection molding machines, etc. – for smooth operation and fast packaging. It packs all types of parts including fasteners, hardware, injection molded parts, spare parts kits, tool parts, food, medical parts and more.
The T-1000 Advanced Poly Bagger ™ industrial machine lowers your packaging costs through high speed, versatility, functional safety and easy handling with user-friendly touch screen and dialog windows, which allow the operator to enter bag and additional options easily and immediately, to save the settings and retrieve task settings for work to be repeated. Manual operation is just as easy as inserting a product and pressing a foot switch.
Product description T-1000:
Touchscreen in 32 colors with dialog window program to easily change the settings.
Seals, separates, opens and indexes preformed Bags on rolls (Advanced Poly-Bags TM) automatically up to HUNDRED (*) pcs. per minute.
Saves job settings with 32 setting options for up to a hundred jobs.
Oil-free operation, design for quick-change Parts and standard parts straight from the shelf.
Packs a variety of bag-sized products from 2 "x 3" (5mm x 7.5mm) to 14 "x 24" (35mm x 60mm) and film thickness from 25μ to 125µ.
Can process films made of polyethylene, polypropylene, laminate film, etc.
Teflon protective shield (patented) with extended life of the Teflon
Independent process welding (patented) ensures for perfect density with every bag, without the Need to adjust the weld.
Rapid pull-out during bag separation (patented) and associated increased production.
Patented protection system to protect the product, the machine parts or the fingers.
Water filter that removes 99% condensation.
Specifications:
Standard height or lowered height of the weld
Bag size: (W x L) 5 cm x 7.5 cm to 35 cm x 75 cm
Foil thickness: 35 μ to 100 μ
Funnel sizes: size 2 to size 14 (25 mm to 175 mm)
Electricity 220 V / 50hz
The machine contains:
Presettable counter, cycle counter with indication of the number of bags, total number of the same working cycles and maintenance indicator
Possibility for chain filling and welding without tearing off the bags
Network capability / communications connector
Spare wheels, protective shield, standard funnel, foot switch, push button for manual afbül activation
One year guarantee
An optional accessory is a height-adjustable stand / stand.