Packaging machine manufacturers – pouch, bags, foil – Companies
Efficient packaging thanks to packaging machines and packaging manufacturers – packaging machine manufacturers are always in demand when it comes to packaging products efficiently. Because even if it is not immediately apparent, packaging still represents an economic factor in terms of handling, shelf life and sales of a product. Pouch packing machine manufacturer or bagging machine manufacturers can help to optimize your daily process.
As a packaging machine manufacturer, BagMatic now offers not only innovative, but also efficient packaging solutions and packaging systems for every need.
As a modern manufacturer of packaging machines, the BagMatic company offers various machines, such as printers, table machines, industrial machines and input accessories. Due to the wide range on offer, it is ensured that customers really find the perfect packaging solution for their own product here. If you search a filling machines manufacturers, you can contact us.
Find out more about us or contact us directly.
Your advantages with Bagmatic and the packaging machines:
A young, family-owned company in the third generation of packaging specialists
Competencies in both semi-automatic and fully automatic packaging machines
Unique "vision system" for quality control and accurate counting of products
Camera solution for registering the parts to be packed before they are packed in bags
Unique solution for counting and packaging very small and light parts, e.g. flower seeds
Robot integration for fully automatic packaging (parts loading)
Neutralization of static electricity of parts prior to packaging in bags
Incomparably good customer service both in our house as well as with the customers on site Europe-wide
Fair and competitive prices
New and reconditioned machines in stock
Our mission is to enable automatic, quick and easy packaging in bags at a fair price! We strive to offer our customers complete packaging solutions and effective packaging machines and to offer the best possible customer service.
– B. Norman Walter, Manager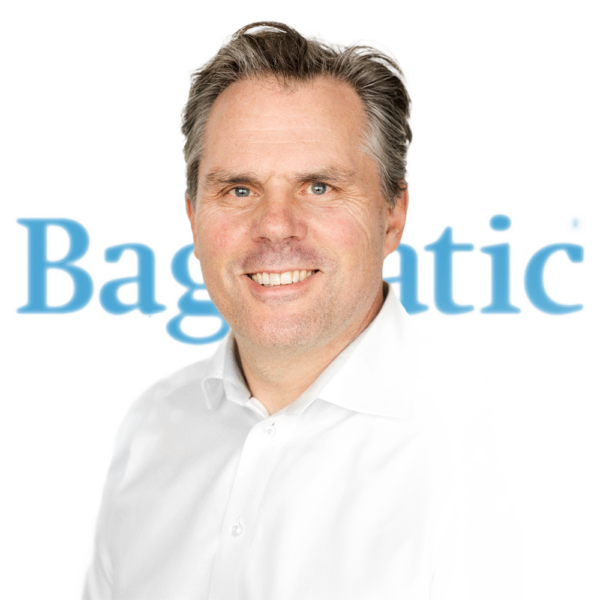 Packaging machines from the manufacturer from € 2,600 for automatic packaging in bags with and without printing
packaging manufacturers: What advantages do packaging machines offer directly from the manufacturer?
The acquisition of a packaging machine does not necessarily represent a small investment for most companies and companies. It is therefore not at all surprising that many interested parties ask themselves about the advantages such a bottling machine manufacturer offers. After all, the purchase should pay off in some way. After all, when buying from a packaging system manufacturer, the wish is usually that productivity should be increased.
Packaging equipment manufacturers: And this is exactly one of the great advantages of buying a packaging machine. But what other positive aspects do packaging machines have?
At the packaging industry manufacturer BagMatic, the customer also benefits from the high design and quality principles. These not only make you feel good, but also ensure that the system has an exceptionally long service life.
Added to this are the pouch packing machine manufacturer's high quality standards, especially in terms of material and workmanship.
Automatic packing machine manufacturers: more advantages with packaging companies
Another plus point is that the customer does not have to buy a large system directly from BagMatic. If you want to start small, you can do so with a clear conscience. Later on there is still the option to buy various modules. This makes it possible to expand your own packaging system step by step. Thanks to the use of innovative technologies, you as a customer can be sure that you are always up to date with the manufacturer's machines and systems and that nothing stands in the way of efficient production. (packaging sealing, vacuum packing – machine manufacturers).
With packaging machines from packaging manufacturers like BagMatic (in germany: german packaging machinery manufacturers) you are also no longer forced to regularly replace the machine park because the system may no longer meet the latest standards. Instead, you benefit from the possibility of having your own system modernized easily and with little effort.
Packaging suppliers: What to do if the packaging system is defective?
For many companies it is the worst case scenario – the packaging machine is defective! Anyone who has opted for a supposed bargain from abroad usually has to pay dearly now.
Not least for this reason, it is always advisable to give preference to a packaging machine manufacturer in Germany when buying. Not only that spare parts can often be procured much faster. As with BagMatic, service is faster and more reliable.
Packaging Companies – pouch packing machine manufacturer
Even if the purchase abroad seems very tempting for many companies, especially for small start-ups, especially because of the often very high savings potential. Nevertheless, all eventualities such as repairs should be considered before a quick purchase. Because this can often turn into a lot of money with a machine from abroad.
Pack perfectly with the right packaging material – packaging manufacturers

The best manufacturer of packaging machines for food really only uses when the accessories, such as bags or foils, are of correspondingly high quality.
In many cases, the search for high-quality accessories is not that easy. And so a lot of money is often invested until the right packaging material is found. But it doesn't have to be.
The manufacturer BagMatic not only offers its customers innovative machine solutions for packaging, but also the corresponding accessories. As the exclusive sales partner of Advanced Poly Packaging, the tubular bag machine manufacturer offers its customers high-quality, individual packaging options. Everything is possible, from stretch film to industrial bags to printed bags or bubble wrap. In addition, there are now environmentally friendly films in the Advanced Poly Packaging product portfolio, for those who also want to consider the environmental aspect.
After all, the right film packaging not only ensures that the product is adequately protected. It also ensures an appealing presentation that should encourage people to buy. This means that by choosing the right packaging, you also have the opportunity to increase your sales figures. And the bagging machine manufacturers can help you.
Pouch packing, bagging, filling machine manufacturer: Pack efficiently and professionally with packaging systems
If you not only want to increase productivity but also want to change some things for the better in terms of marketing, you are definitely right with the innovative machine solutions from BagMatic. We are sure that the Neuwied company has the perfect packaging solution for you too!
BagMatic unites a packaging machine manufacturer with advice, service, maintenance and repair in Germany for the global market.